Posts for tag: dental implants
By Dental Wellness at Dry Creek
December 16, 2016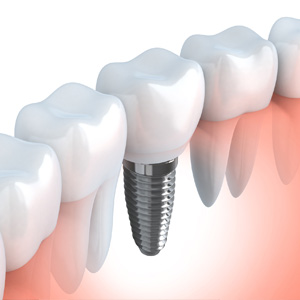 Unlike other tooth replacement options, dental implants require a surgical procedure. But don't let your imagination run wild — the procedure is relatively minor and easy for most people to undergo.
Implants are unique among restorations because they replace a tooth's root. A metal titanium post, substituting for the root, must be surgically placed into the jawbone. While the procedure itself is simple and no more involved than a tooth extraction, it does require careful attention to detail before, during and afterward.
Our first step is to examine the target site with x-rays (often CT scanning) to pinpoint the best location for placement. This is critical because where we place the implant will have a huge bearing on how attractive and natural the implant finally appears. From this evaluation we frequently create a surgical guide.
Surgery begins with a local anesthesia to completely numb the site. You will feel no pain during the procedure and only minimal discomfort for a few days afterward. We then make small incisions in the gums to access the bone and create a small channel or hole.
Using the surgical guide, we then initiate a drilling sequence that gradually increases the size of the channel until it's the size and shape of the implant post. One thing we must do at this point is take our time: we use gentle pressure and water-cooling to avoid overheating and damaging the bone.
Once we're finished with drilling we remove the implant from its sterile packaging and imbed it directly into the prepared channel. It's then a matter of verifying the location with x-rays and then closing the gum tissue with self-absorbing sutures if necessary.
Most patients only need mild pain medication like aspirin or ibuprofen to manage discomfort afterwards. You won't even notice it in a week or less. After several weeks in which the bone grows and adheres to the implant (a process called osseointegration), you'll be ready for the final step, attaching the life-like porcelain crown to the implant.
Although the process can take several weeks to months, your discomfort should be minimal at any stage. In the end, your patience will be rewarded with a new, more attractive smile.
If you would like more information on the process of obtaining dental implants, please contact us or schedule an appointment for a consultation. You can also learn more about this topic by reading the Dear Doctor magazine article "Dental Implant Surgery."
By Dental Wellness at Dry Creek
January 05, 2016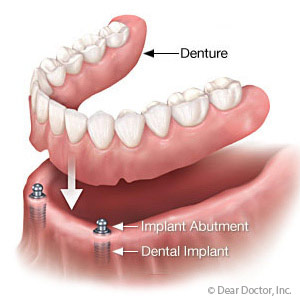 People who've lost all their teeth (a condition known as edentulism) face a decision on how to restore their lost function and appearance. And there are a number of options to consider.
A fixed bridge supported by dental implants, for example, is a good choice for patients who still have sufficient bone structure in their jaw. It's not a good choice, however, for those with the opposite situation — who've experienced significant bone loss which has also affected their facial structure. For them, there's a better alternative that also uses implants for support — the overdenture.
An overdenture is similar to a traditional denture, in that it's made of life-like crowns permanently set in denture plastic, and may either partially or fully cover the roof of the mouth. The main difference, though, is that unlike traditional dentures which rest for support on the gum ridges, an overdenture is supported by strategically placed implants that the denture fits over and connects to — hence the name "overdenture."
There are a number of advantages for an overdenture, especially for patients with bone loss. A removable, implant-supported denture can be designed to replace lost tissues that have altered facial appearance — to "fill in" the face and restore aesthetic harmony. Patients who've previously worn dentures will also often find their speech better improved than with fixed bridgework.
Because it's removable, an overdenture and the underlying gums are easier to clean, which helps inhibit disease and lessen further bone loss. It also allows you to properly care for the denture, which can extend its longevity and reduce future potential maintenance and replacement costs.
If you would like to consider removable overdentures as an option, you should begin first with a thorough oral exam that includes evaluating the status of your bone, jaw and facial structure. From there we can advise you if overdentures are the best choice for you.
If you would like more information on overdentures and other restoration options, please contact us or schedule an appointment for a consultation.